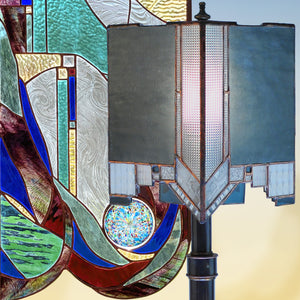 Bring The Warmth of Colored Light Into Your Home
In the hills of Southern Vermont, Julia Brandis creates vibrant, sculptural stained glass lamps and panels that enliven the indoor space with soothing energy. 
Varying textures, iridescence, wirework and jewels catch the light at many angles to create depth and delight.
---
About Julia
Julia and her husband, Demian, work together in their studio built from large pines milled from their property in Vermont. 
Their studio stands surrounded by an old wood forest. Julia is inspired by the intense changes in the seasons in New England. A brook flows below the home serving as a reminder that water is constantly altering the land. 
Read More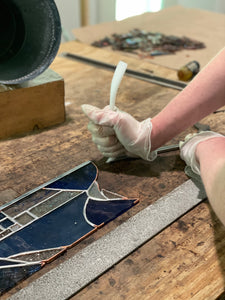 The Process
Each stained glass piece begins with a line drawing cut down in to pattern pieces. These are laid out on various textures and colors of glass allowing  Julia to hand cut the exact shapes needed. Each individual piece of glass is then ground to perfection and wrapped in copper foil.
Foil is the base to build up the solder which holds the glass together. Frames are cut from rigid zinc. Flexible lead came is bent and soldered around the unique organic bottom edges.
Lamp bases are built from hand cut copper tubing then finished off with metal brushes or given a dark patina. The foot of the bases are various types of granite with rigid rubber feet to protect furniture and allow space for the cord.
CUSTOM ORDERS
Customized stained glass is a beautiful way to pull together a room. From windows to lighting it can create a whole new feeling . Glass can provide privacy, obscure unsightly views or simply add color and warmth to a room.
Designs from the limited editions shared here may be altered in size or colors. If you have a new concept you would like to explore please contact Julia for a design consultation and to learn more about the process.
Read More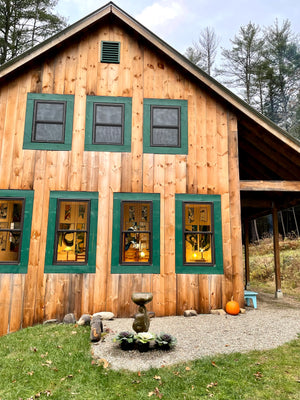 Call to visit the studio!